BLANCHARD Anne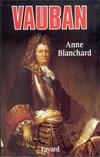 Biography of Vauban, from his origins to his ascent to the court of the Sun King, replaced in the historical context and the mentalities of his period. The work presents the life of Vauban in five parts, one of which is mainly centred on his life in Morvan. The reformer is also presented via the writing of "Oisivetés"("idle thoughts") and the Royal Dime.
Paris : Fayard - 1996
- , 1 vol. (682 p.) : ill.en noir, couv. ill. en coul.
Notes
Bibliogr. p. 642-655. Index
Langue(s) de la ressource