PUJO Bernard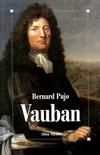 The author presents the ascent of Vauban, then the man dedicated to the King via the link of the Huguenots and the project of the Royal Dime. This work is illustrated by maps and sketches of sieges in which Vauban participated, his Pré Carré (Duelling Field) and places he constructed or improved. The annex includes the line of descent of Vauban and the list of relief maps.
Paris : Albin Michel - 1991
- , 1 vol. (374 p.-16 p. de pl.) : cartes, couv. ill. en coul.
Notes
Bibliogr. p. 353-355. Glossary. Index
Langue(s) de la ressource