Architecture : méthode et vocabulaire
PEROUSE DE MONTCLOS Jean-Marie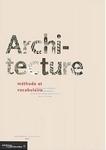 This work presents terms and definitions specific to architecture: composition, structures and construction of various parts of civil, religious and military buildings. Moreover, for each term it provides synonyms, obsolete terms, and orthographic and semantic variation.
Paris :Patrimoine - 2000
Collection
Principes d'analyse scientifique
- , 2 vol. (234 p.) : ill., plans
Notes
Bibliogr. p. 6-13. Index.
Langue(s) de la ressource