Arithmétique politique dans la France du XVIIIe siècle
MARTIN Thierry, LÉCUYER Bernard-Pierre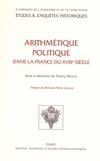 The work studies the construction of the arithmetic policy in Franceby focusing on that of Vauban, Montesquieu and other characters from the 18th century. This science is also covered from the Italian perspective.
Paris : Institut national d'études démographiques - 2003
Collection
Classiques de l'économie et de la population : études et enquêtes historiques
- , 1 vol. (573 p.) : ill.
Langue(s) de la ressource