Ouvrage collectif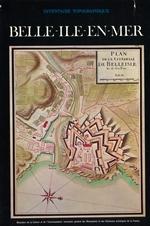 A topographic survey of the canton of Belle-Ile-en-Mer was carried out by the Heritage inventory department of Brittany region on behalf of the Belle-Ile-en-Mer local authority. The book features the island's artistic heritage including the citadel and urban walls of the town of Le Palais which are the most outstanding examples. In addition to these two major elements, readers will also encounter some minor buildings and little-known works such as military coastal works, town and country houses, and interior works such as altarpieces, statues, gold and silverware, or wood paneling, at times with paintings.
The island's eventful history, with sieges, invasions and destructions lasting for over three centuries, explains the modest amount of civil and religious heritage that remains. On the other hand, the major strategic importance of the island in the organisation of the advanced defence of the Atlantic coasts gave rise to the creation of many plans and maps which are an integral part of the history of Belle-Ile. With the location of fortifications and town and country houses, they enable a chronological study of the island. The Acadian colonization, which was one of the last episodes in this eventful history, gave rise to an interesting experiment in standardized housing, which is analysed in the "general comments" section of the book.
Living conditions on the island, a true bastion for many years, have thus been brought back to life. These living conditions were at times difficult in stark contrast to the beauty of the sceneries. The combination of ancient and modern illustrations presented in this publication invite us on a journey through time and space. 
SIVOM Belle Ile en Mer - février 1978
- , 1vol (243p.):couv ill en coul, ill en coul, plans
Notes
Biblio p.2-6; Topographic survey of the canton of Belle-Ile-en-Mer carried out by the Heritage inventory department of Brittany region on behalf of the Belle-Ile-en-Mer local authority
Langue(s) de la ressource