Castles and fortified cities in medieval Europe : an illustrated history
LEPAGE Jean-Denis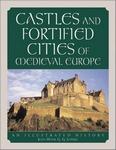 This work covers the evolution, construction techniques and diversity of medieval fortifications inEurope, and the artillery used during conflicts. Each illustration is accompanied by a text describing the types of buildings, the defences of castle-forts and those of medieval towns.
Londres : Mcfarland - 2002
- , 1 vol. (335 p.) : ill. en noir et en coul., couv. ill. en coul.
Notes
Bibliogr. p. 326. Index.
Langue(s) de la ressource