Châteaux et enceintes de la France médiévale : de la défense à la résidence : la résidence et les éléments d'architecture. Tome 2
MESQUI Jean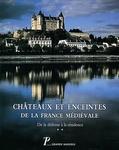 This second tome features medieval castle residences, their evolution and their functions, from their constituent elements, the hygiene conditions, lighting and decoration. It finishes with an analysis of the architectural elements.
Paris : Picard - 1993
Collection
Grands manuels Picard
- , 1 vol. (382 p.) : ill. en noir, plans, couv. ill. en coul.
Notes
Bibliogr. p. 347-365. Index
Langue(s) de la ressource