Châteaux et enceintes de la France médiévale : de la défense à la résidence : les organes de la défense. Tome 1
MESQUI Jean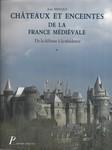 This first tome covers the evolution of medieval fortification from the 11th and 12th centuries. It also presents, as a follow-up, various military buildings in terms of their forms, evolutions and functionalities.
Paris : Picard - 1991
Collection
Grands manuels Picard
- , 1 vol. (375 p.) : ill. en noir, plans, couv. ill. en coul.
Langue(s) de la ressource