Châteaux forts et fortifications en France
MESQUI Jean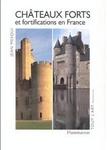 This book constitutes an inventory of castle-forts and other fortified constructions of the middle Ages in France. In total, the work includes records of more than eight hundred sites, most of which are accompanied by historical notices and map-making. This work also features the history of these castles, intimately linked to that of the Region and the evolution of royal power.
Paris : Flammarion - 1997
- , 1 vol. (493 p.) : ill. en noir et en coul., couv. ill. en coul.
Notes
Bibliogr. p. 477. Index.
Langue(s) de la ressource