Châteaux forts : images de pierre des guerres médiévales
CHATELAIN André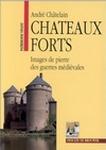 The author covers the history and the evolution of fortifications from primitive fortifications up to the construction of the castle-forts of the middle Ages. It presents the various techniques of defence and attack, and the principles of military and medieval architecture.
Paris : Rempart ; Desclée de Brouwer - 2003
Collection
Patrimoine vivant
- , 1 vol. (114 p.) : ill. en noir et en coul., couv. ill. en coul.
Notes
Bibliogr. glossaire. Index.
Langue(s) de la ressource