Conserving the Enlightenment : French Military Engineering from Vauban to the Revolution
LANGINS Janis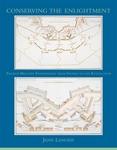 This work features science and military genius via the fortifications of Vauban, the progress of the artillery, siege war. It also covers military engineers during the Revolution, especially the career of the Marquis of Montalembert.
London : MIT Press - 2004
- , 1 vol. (548 p.) : ill. en coul., couv. ill. en coul.
Notes
Bibliogr. p.491-521. Index
Langue(s) de la ressource