A Dictionary on Modern Fortification
ROLF Rudi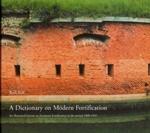 This lexicon contains some 6200 entries on different aspects of military fortification in Europe between 1800 and 1945; the composition of principal fortresses and defence positions; the description of individual forts and batteries, short references to military engineers, designers, arms and armour manufacturers; and a fortification terminology in English, French, German and Italian.
PRAK Publishing - 2004
- , 1 vol.(464p.): ill., cartes, couv.ill.en coul.
Notes
Included a black-and-white map of Europe featuring 19th and 20th century fortresses and defence positions.
Langue(s) de la ressource