Frontières de France : de l'espace au territoire : XVIe - XIXe siècles
NORDMAN Daniel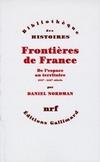 The author analyses the construction of the frontiers of France. There is particular focus on multiple models of thought from the 17th century and those used to set the frontiers at the level of Alsace, the Pyrenees, the Lorraine region and the North. The last part is devoted to the notion of the linguistic frontier.
Paris : Gallimard - 1998
Collection
Bibliothèque des histoires
- , 1 vol. (644 p.-16 p. de pl.) : ill. en noir, cartes, couv. ill; en coul.
Notes
Bibliogr. p. 595-615. Index.
Langue(s) de la ressource