Histoire de la France : absolutisme et lumières : 1652-1783
CORNETTE Joël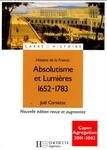 A first part covers the reign of Louis XIV followed in a second part, by the presentation of the Royal state in the century of the "Lumières".
Paris : Hachette supérieur - 2008
Collection
Carré d'histoire ; n°23
- , 1 vol. (335 p.) : cartes, couv. ill. en coul.
Notes
Bibliogr. p. 328-330. Glossary
Langue(s) de la ressource