PRETO GRACIA Jose Luis, VALDENEBRO GARCIA José Vicente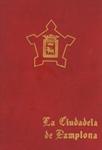 On 21 March 1964, the fortifications owned by the army became the property of themunicipalityofPamplona. In 1965, the Major José Luis Prieto Garcia published a detailed historical report about the citadel aimed at all those responsible for the fortifications in the town.
A new edition of "La ciudadela de Pamplona" was brought out in 2014 to mark the 50th anniversary of the signature of the property transfer decree. The book assembles numerous archival documents, plans and aerial photos. It is a comprehensive archaeological and historical document which still today remains a reference for the town ofPamplona, which for many years now has been seeking the best solutions to preserve and enhance its fortified heritage.
Ayuntamiento de Pamplona - 2014
- , 1 vol (160p.): couv ill en coul, ill en noir et blanc et coul, cartes, plans
Langue(s) de la ressource