La fortification au temps des croisades
FAUCHERRE Nicolas, MESQUI Jean, PROUDEAU Nicolas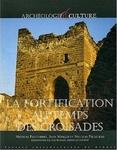 This work presents construction by various specialists on the fortifications of the Middle East, an analysis of this military architecture, the conquests and defence systems, the construction techniques and the art of siege in the 12th and 13th centuries.
Rennes : Presses universitaires de Rennes - 2004
Collection
Archéologie et culture
- , 1 vol. (359 p.) : ill. en noir et en coul., cartes, plans, couv. ill. en coul.
Notes
Symposium international organised from 26 to 28 September, 2002 at the Palais des Congrès in Parthenay. Bibliogr. Index
Langue(s) de la ressource