La France de Louis XIV 1643-1715 : ordre intérieur et place en Europe
CORVISIER André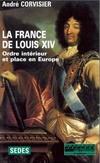 This work covers the internal order, foreign policy and the place of Francein Europein the socioeconomic context from 17th century. It also looks at the types of war at this time, the impact of the war on people, the organisation of the army and the set-up of the French frontiers. In the annex, multiple maps are included: the sieges directed by Vauban, the industries participating in the war effort, the wars during the period of Louis XIV and the foundation general hospitals.
Paris : Sedes - 1994
Collection
Regards sur l'histoire ; n°33
- , 1 vol. (396 p.) : ill., couv. ill. en coul.
Notes
Bibliogr. p. 349-357. Index
Langue(s) de la ressource