Le Fort d'Issy, un patrimoine en devenir
ORTHOLAN Henri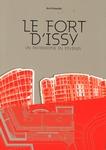 A military place in the past, a residential district in the near future, the fort of Issy-les-Moulineaux has had several lives. Built at a late stage in the 1840s, it was to see many historical events ranging from the Franco-Prussian War of 1870, to the Paris Commune, before its facelift today. The transformation is underway, managed by firms such as the agency Architecture-Studio on behalf of a group of property developers.
This book presents a comprehensive overview of the fort's history, from its construction to its current transformation. The first part shows the site in a clear and documented historical perspective, the second allows readers to better understand the issues of the work undertaken in 2010 through Architecture-Studio's enlightening comments. Thus, the whole question of architectural heritage's place in the present day is raised through the fort d'Issy which is indeed a "heritage in the making".
Archibooks - 2010
- , 1 vol. (127p.): couv. Ill en coul, ill. en coul.
Langue(s) de la ressource