Le musée des plans reliefs : maquettes historiques de villes fortifiées
WARMOES Isabelle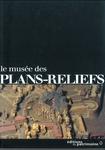 This work covers the history, and techniques of construction and restoration of relief maps, preserved and partially on show at the Invalides and their documentary value. Finally, the work of descriptive notices presents the items included in the collection.
Paris : Patrimoine - 1997
Collection
Guides thématiques
- , 1 vol. (71 p.) : ill. en noir et en coul., couv. ill; en coul.
Notes
Bibliogr. p. 69. Index
Langue(s) de la ressource