Le roi de guerre : essai sur la souveraineté dans la France du Grand Siècle
CORNETTE Joël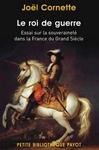 The author presents the authority and power of Louis XIV via the war, the construction of fortresses by Vauban and the establishment of the Pré Carré (Duelling Field).
Paris : Payot et Rivages - 2010
Collection
Petite bibliothèque Payot ; n°391
- , 1 vol. (560 p.) : ill., couv. ill. en coul.
Notes
Bibliogr. p. 515-538. Index
Langue(s) de la ressource