Les châteaux forts : de la guerre à la paix
MESQUI Jean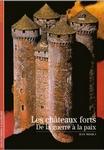 The author presents various functions, symbols and myths of the castle-forts, the forms and elements of civil and military architecture, the artillery used during conflicts, the living conditions in these castles, and defence in the 14th century.
Paris : Gallimard - 2008
Collection
Découvertes Gallimard ; n°256
- , 1 vol. (159 p.) : ill. en noir et en coul., couv. ill. en coul.
Notes
Bibliogr. p. 152-153. Glossary. Index.
Langue(s) de la ressource