Les ingénieurs militaires espagnols de 1710 à 1803
GALLAND SEGUELA Martine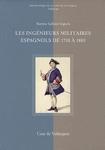 This work presents the Spanish engineering capability in the 18th century via the career of the military engineers, their training and multi-faceted adaptability within the army, their social and private life.
Madrid : Casa de Velázquez - 2009
Collection
Bibliothèque Casa de Velazquez ; n°40
- , 1 vol. (449 p.) : ill;, cartes, couv.ill. en coul.
Notes
Bibliogr. p.371-397. Index.
Langue(s) de la ressource