Les plans en relief des places fortes du Nord dans les collections du Palais des beaux-arts de Lille
WARMOES Isabelle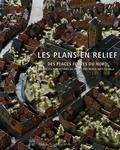 This book features fifteen plans-relief including Lille, Ypres, Avesnes and Oudenaarde that have been preserved in the palais des Beaux-arts in Lille since 1987. Other pieces are also preserved in the Musée des plans-reliefs, in Paris.
Paris : Somogy ; Lille : Palais des beaux-Arts de Lille - 2006
- , 1 vol. (95 p.) : ill. en noir et en coul., cartes, plans, couv. ill. en coul.
Langue(s) de la ressource