Namur, la citadelle hollandaise. Une forteresse mosane de Wellington à Brialmont (1814-1878)
Ouvrage collectif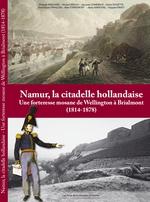 The citadel of Namur, is an exceptional heritage It is for the greater part a reconstruction during the "Dutch period" (1815-1830). For the first time, a book is completely dedicated to it, until the transformations by the officers of the Belgian military engineering from 1830 till 1878. 194 pages are illustrated with more than 300 unpublished plans and former or recent pictures.
Les amis de la citadelle de Namur - Novembre 2012
- , 1 vol.: couv.Ill en coul., ill en coul.
Langue(s) de la ressource