No creation without memory, inaugural lecture at the Ecole de Chaillot
PROST Philippe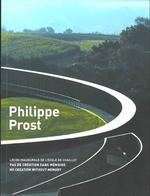 This 11th inaugural lecture was the first to be delivered by one of the École de Chaillot's former students, the architect Philippe Prost, who was invited to address the role of history and heritage in his architectural and landscape projects. An architect, urban planner and historian of fortifications, he created his office AAPP – Agence d'architecture Philippe Prost – in Paris in 1993 and now teaches at ENSA de Paris-Belleville. The Mémorial international Notre-Dame-de-Lorette is Philippe Prost's contemporary masterpiece. His Ring of Remembrance illustrates the extent to which creativity and heritage go hand in hand and architecture cannot be compartmentalised.
Editions Cité de l'architecture & du patrimoine - Ecole de Chaillot - janvier 2016
- , 1 vol. (125p.): couv. Ill en coul., ill. en coul.
Notes
Inaugural lecture at the Ecole de Chaillot, delivered on February 3rd 2015
Langue(s) de la ressource