Oudenaarde 1708 : een stad, een koning, een veldheer
LACHAERT Pieter-Jan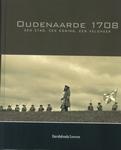 Published on the occasion of the tricentenary of the siege of Oudenaarde (1708), this work covers the history of the town and in particular the period between 1648 (treaty of Munster) and 1714 (treaty of Utrecht). Two chapters are devoted to the relief map and another two to the siege.
Leuven : Davidsfonds - 2008
- , 1 vol. (151 p.) : ill. en coul., couv. ill. en coul.
Notes
Bibliogr. p.143-151
Langue(s) de la ressource