Portefeuille de plans : projets et dessins d'ingénieurs militaires du XVI e au XIXe siècle
Ouvrage collectif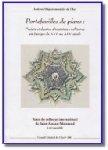 Contributions featuring the issues and use of maps and those used by military engineers, the contribution of these maps to the fortified heritage of today and map-making in the Spanish and Austrian Netherlands. Certain contributions are also made in the form of the history of map collections, such as those of maps preserved in the archives of Turinor the Service history library of the army.
Bourges : Conseil général du Cher - 2001
- , 1 vol. (204 p.) : ill., plans, couv. ill; en coul.
Notes
Symposium organised by the Conseil General of the Cher from 2 to 3 March, 2001 in Saint-Amand-Montrond
Langue(s) de la ressource