Québec, ville militaire 1608-2008
BERNIER Serge, CASTONGUAY Jacques, CHARBONNEAU André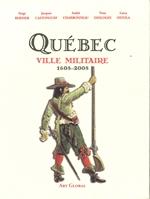 This book is an essential work about one of the most important yet little-known historical aspects of the city of Quebec. The authors, five historians who are specialists in military issues, highlight the importance of the town of Champlain which, in the 17th century, emerged as the strategic point and stronghold for the country to be built. The defence of New France was organised from the heights of the Cap-aux-Diamants, where France had established a permanent position.
The British Regime confirmed the military vocation of Quebec. After the Anglo-American war of 1812-1814, the expansion of its defensive system earned it the name "the Gibraltar of North America". Although its military role was to gradually diminish, the city still bears, in its contours, its architecture and its daily life, the mark of the cohabitation of civilians and military. Still today, the soldiers of the Royal 22nd regiment continue the tradition established by their predecessors in the 17th century.
With statistical tables, previously unpublished documents and rich illustrations, "Québec ville militaire" takes the reader through 400 years of history when the capital city was fortified, besieged, conquered, liberated and proud. Chapter by chapter, we can feel Quebec growing in its role as an outpost and capital. We can see it adjusting to the evolution of its military vocation until finally, at the coming of peace, the municipality endeavours to safeguard and enhance the military aspect of its history.
Québec: Art Global - 2008
- , 1vol.(349p.):couv ill en couleur, ill en coul, plans
Langue(s) de la ressource