Stella d'Acqua, policies for and reflections on the regeneration of Forte Marghera in Venice
Ouvrage collectif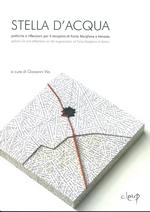 This book offers an overview of the debate surrounding the regeneration and development of Forte Marghera, a central place on that Venetian lagoon which finds meaning through its relationship with the mainland.
Forte Marghera, which still contains traces of its medieval imprinting completely eradicated elsewhere, is not merely one of those disused areas which, having reached us in a virtually pristine condition after a lengthy military occupation, are quintessential empty spaces awaiting a name. It is a unique opportunity to set up a process of restoring to the city the space that stands on its lagoon banks, its boundaries, and which today lies on the edge of both Mestre and Venice.
In the book, a creativen free and scientifically based approach to the theme derived from the research and teaching experiences at the Faculty of Architecture at Iuav in Venice, is juxtaposed with the actions, policies and choices, unequivocal and pragmatic, but occasionally difficult and contradictory, of those directly involved in managing the area, striving for a fruitful harmony.
Giovanni Vio - 2009
- , 1 vol. (200p): ill.en coul., couv.ill.en coul.
Langue(s) de la ressource