Un été militaire en Namurois, les grandes manœuvres de l'armée belge en 1913
Ouvrage collectif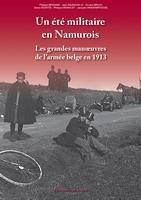 A century ago,Namur, and in particular its rural surroundings, Entre-Sambre-et-Meuse and east of the Condroz, were the scene of major Belgian army exercises for a week from August 27 to September 3. They can be considered as a dramatic foreshadowing of the events of August 1914, that were to occur scarcely a year later, with the German attack against Belgium, almost day for day before the assault on the fortified town of Namur.
This book is a new edition of the report released immediately in the aftermath of the army exercises, in a relatively new illustrated monthly, aimed at the general public. Copies of it are rare today. Worthy of publication on the eve of commemorations of the First World War and the events of August 1914, the work is fully illustrated, and includes a local testimony, some previously unpublished excerpts fromNamurnewspapers, and some new photographs and postcards, related to the event.
A brief overview of the context is given with chapters dealing with previous and consecutive events. As Jean Baudhuin wrote, "it is an opportunity to revive memories, to plunge back into the extreme end of what we called "the roaring twenties", and also to recount the history of the siege of the fortified town in1914".
Les amis de la citadelle de Namur - novembre 2013
- , 1 vol.: couv.Ill en couleur
Langue(s) de la ressource