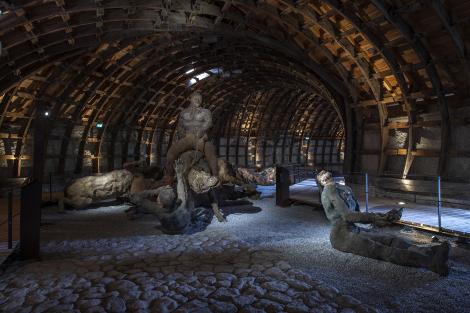 From July 2021, the stronghold of Mont-Dauphin, included in the Unesco World Heritage List as a Vauban Fortification, will present "Little Bighorn", a monumental work of art by the sculptor Ousmane Sow. Made up of thirty-five pieces sculpted using the artist's own technique, it forms a dozen or so battle scenes in reference to the famous confrontation between the Plains Indians and the US Federal Army near the Little Bighorn River in 1876.
This series of sculptures, which is part of the visit, is exhibited under the exceptional roof of the Rochambeau barracks, in the heart of the fortified town of Mont-Dauphin. This barracks, built in the 18th century, is one of the three barracks of the fortified village of Mont-Dauphin. Built against the southern rampart of the village, it provided accommodation for over 600 soldiers. Originally covered by an artillery terrace, it was equipped at the beginning of the 19th century with an exceptional barrel vault, based on a process invented in the 16th century by Philibert Delorme.
The archetypal mountain stronghold
In 1693, Vauban decided to build a stronghold from scratch to prevent attacks from Italy. This remarkable construction was set on a bleak plateau, at a height of 1050 metres, dominating the confluence of the Rivers Guil and Durance.