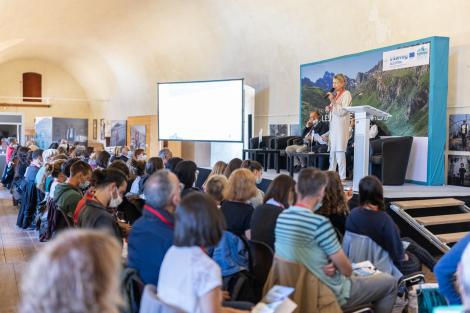 On 17 September 2021, the stronghold of Mont-Dauphin, which has been on the Unesco World Heritage List since 2008 as a Vauban fortification, hosted a cross-border conference on "Labels: what are the challenges for the development of our Alpine territories?
Organised by the Communauté de communes du Guillestrois et du Queyras and the Queyras Regional Nature Park, within the framework of the European project Terres Monviso, this symposium was an opportunity for the hundred or so participants to attend a plenary conference and to reflect on concrete questions on the theme of labels and their territorial challenges. Among the topics discussed: "the UNESCO brand as a tool for management and local development" and "UNESCO labels in the protected areas of the French Alps: synergies and limits".
The archetypal mountain stronghold
In 1693, Vauban decided to build a stronghold from scratch to prevent attacks from Italy. This remarkable construction was set on a bleak plateau, at a height of 1050 metres, dominating the confluence of the Rivers Guil and Durance.