2000 ans de fortification française : du 16e siècle au mur de l'Atlantique
ROCOLLE Pierre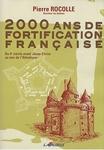 This work retraces the history of the fortification since the origins of the bastioned fortification at the construction of the Maginot Line, via the construction of the Pré Carré of Vauban (Duelling Field), the evolution of the art of siege and the Séré de Rivières system. The annex contains the main sieges.
Panazole : Lavauzelle - 1989
- , 1 vol. (p. 303-679) : ill. en noir, cartes, couv; ill. en coul.
Notes
Bibliogr. p. 657-679
Langue(s) de la ressource