Camaret-sur-Mer. La tour Vauban,
MONGIN Marie, STEENBERGEN Marieke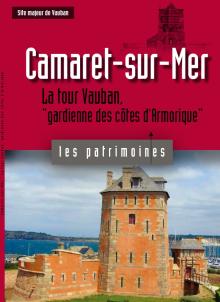 Standing proud at the very end of an offshore bar, the Camaret-sur-Mer tower was built by Vauban between 1689 and 1696. As part of a complete system defending the Brest bottleneck and its arsenal-harbour, it ha dits test of fire on 18th June 1694, an event for which it received its title of « Guard of the Armorican coasts ».
As it gradually lost its military functions in the 19th and 20th centuries, the gilded tower became a source of inspiration for many artists. Thanks to an active conservation policy it has become today a must-see cultural and tourist venue and is the starting point for the fortifications Route of the Crozon peninsula.
Républicain Lorrain - Août 2014
Collection
Les patrimoines - Sites majeurs de Vauban
- , 1 vol. (51 p.) : ill. en noir et en coul., cartes, plans, couv. ill. en coul.
Langue(s) de la ressource