Ecrits divers sur l'économie
PERNOT Jean-François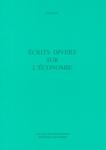 This work compiles the various written works of Vauban concerning his economic thoughts and theories. The compilation includes thirteen texts extracted from Oisivetés ("idle thoughts") and thirty extracts of his correspondence. Included in the annex are measures of Vauban and their equivalences.
Saint-Léger-Vauban : Association des amis de la Maison Vauban - 1996
- , 1 vol. (244 p.) : couv. ill. en coul.
Langue(s) de la ressource