Étoiles de pierres : voyage en Nord-Pas-de-Calais
CHEUVA Pierre, BRAGARD Philippe, COMBEAU Yves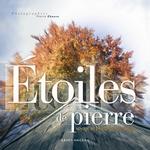 This work presents the city forts of the Pré Carré (Duelling Field) of Vauban in northern France, the construction of the hydraulic network for their defence, their town planning designed by engineers, and their reevaluation and reuse since the 20th century.
Villeneuve-d'Asq : Ravet-Anceau - 2003
- , 1 vol. (143 p.) : ill. en noir et en coul., couv. ill. en coul.
Langue(s) de la ressource