Journal du siège de la ville d'Ath investie le 15 mai 1697
DUCASTEL Jean-Pierre, FAUCHERRE Nicolas, CHAGNY-SÈVE Anne-Marie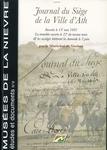 This publication, which comes from research performed at the archives department of Nièvre, presents the unfolding of the siege of the town of Ath, based on observation between May and June 1697. It includes a retranscription of the commentary of the manuscript of Vauban concerning this siege.
Nevers : Musées de la Nièvre ; Archives départementales de la Nièvre - 2007
Collection
Etudes et documents ; n°9
- , 1 vol. (131 p.) : ill. en noir et en coul.
Langue(s) de la ressource