SARTELET Alain, THOMAS Patrice, WISSENBERG Christophe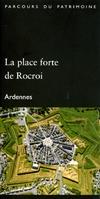 This work presents the history of the stronghold of Rocroi since the reigns of Francis I and Henri III. Also mentioned are the sieges which took place at the site, the construction of Vauban and that of Séré de Rivières.
Langres : D.Guéniot - 2008
Collection
Parcours du patrimoine ; n°327
- , 1 vol. (48 p.) : ill. en noir et en coul., plans, couv. ill. en coul.
Notes
Bibliogr. p. 48. Glossary.
Langue(s) de la ressource