La route des villes fortes en Nord
HANSCOTTE François, FAUCHERRE Nicolas, LEMAÎTRE Pascal (photogr.)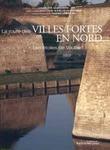 The work, illustrated with numerous photographs, presents the main fortified sites and the establishment of the Pré Carré (Duelling Field) of Vauban in the North. Each fortified site features an extract of the correspondence of Vauban. Also mentioned are the predecessors of Vauban via the Dutch influence and the engineer Jean Errard.
Paris : Huitième jour - 2005
Collection
Les étoiles de Vauban ; Chemins de traverse
- , 1 vol. (193 p.) : ill. en coul., couv. ill. en coul.
Langue(s) de la ressource