L'arpenteur du roi : Vauban et Besançon
MAUERHAN Joëlle, GRESSET Maurice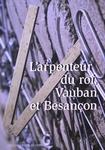 This exhibition catalogue presents the history and life of Vauban in Besançon, via his sieges, his royal dime project and his mathematical side. This publication is also enriched by photographs of objects presented during the exposition.
Besançon : Musée du temps - 2007
- , 1 vol. (63 p.) : ill.en coul., couv. ill. en coul.
Langue(s) de la ressource