PETER Jean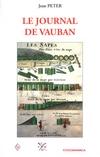 A detailed and documented biography of the life of Vauban. His rapport with the King and his men (Louvois, Colbert, Le Pelletier) are also described there, as are his thinking and offensive military work (sieges led) and defensive (fortified sites).
Paris : Commission française d'histoire militaire ; Institut de stratégie comparée ; Économica - 2007
Collection
Hautes études maritimes ; n°22
- , 1 vol. (359 p.) : couv. ill. en coul.
Notes
Bibliogr. p.349-355. Index
Langue(s) de la ressource