L'esprit des fortifications : Vauban, Dufour : les forts de Saint-Maurice
RAPIN Jean-Jacques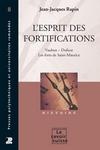 The author presents the evolution of fortification via the work of Vauban in France, the progress of artillery, the construction of the Maginot Line and the Swiss fortifications of the General Dufour.
Lausanne : Presses polytechniques et universitaires romandes - 2003
Collection
Le savoir suisse ; n°8
- , 1 vol. (124 p.) : ill., cartes, couv. ill. en coul.
Notes
Bibliogr. p. 115-120. Glossary.
Langue(s) de la ressource