Louis XIV, Louvois, Vauban et les fortifications du Nord de la France
CHOTARD Henry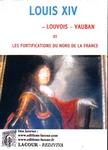 The author studies the correspondence between Mr. de Chazerat, in Lille, responsible for overseeing significant fortification work, Louvois and Vauban. The work also covers the role of Louis XIV, Louvois and Vauban in the defence of frontiers.
Nîmes : Lacour-Ollé - 2008
- , 1 vol. (298 p.) : couv. ill. en coul.
Langue(s) de la ressource