Ouvrage collectif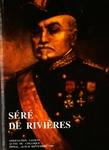 Séré de Rivières designed the second major fortified system in France. From 1874 to 1914 more than 5,000 structures in this system were built in Lorraine and on all the land and sea borders of France as well as overseas. As the concept evolved, major financial sacrifices had to be made; in building the fortified system to start with, then adapting it  technically and at times radically transforming it in order to keep it in line with the constant innovations brought to artillery by the vertiginous scientific and industrial progress at the end of the last century.
Without a doubt, following this race of shell against ramparts is most enthralling, and the constant desire to perfect the protection of the frontier glacis is stirring.
Therefore, in the same way that the Spanish invasions of the first half of the 17th century in the North of the France inspired Vauban with his "pré carré", Séré de Rivières designed, in the light of the sieges of the Franco-Prussian War of 1870-1871, his defensive system.
Paris:Association Vauban - 1999
- , 1 vol. (398p.): couv.Ill en coul., ill en noir et blanc
Notes
Conference proceedings
Langue(s) de la ressource