Vauban, Blaye et le verrou de l'estuaire
BESCHI Alain, CRON Eric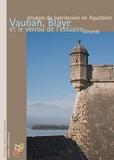 Masterpiece of the defensive installation of the kingdom wanted by Louis XIV and implemented by Vauban, the "bolt" of the estuary forms a triptych of fortifications blocking off the Gironde downstream of Bordeaux. Composed of the citadel of Blaye on the right bank, of the fort Pâtéon one isle and the fort Médoc on the opposite bank, this set represents a unique example in France of defence of an estuary.
This work offers expert readers, as well as beginners and curious, a detailed historical summary complete with itineraries of visits, like an invitation to the discovery of the work of Vauban, of a bank on the other side of the estuary of the Gironde.
Bordeaux: Inventaire du régional d'Aquitaine, éditions confluences - avril 2011
Collection
Visages du patrimoine en Aquitaine
- , 1 vol. (96 p.) : ill. en noir et en coul., couv. ill. en coul.
Langue(s) de la ressource