Vauban en Flandre et Artois
SALAMAGNE Alain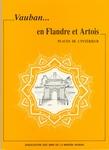 The work presents the fortifications of Vauban in the north of France and Belgium. It also covers the conflict between the Spanish Netherlands andFranceand the construction of waterways by Vauban. The annex features an extract of the memoir on the fortification of frontier sites by Flanders compiled by Vauban in 1678.
Saint-Léger-Vauban : Association des amis de la Maison Vauban - 1995
- , 1 vol. (104 p.) : ill.
Langue(s) de la ressource