Vauban : entre Sambre et Meuse : 1707-2007
DEBRABANT Bernard, BRAGARD Philippe, DECAMPS Jean-Claude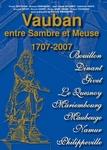 This book presents architectural and urbanistic construction and the life of Vauban. Compiled by local historians and academics, it is abundantly illustrated with watercolour maps, many of which are unpublished, photos of actual places and objects evoking the Grand century.
Certain unpublished information is provided punctually, on the basis of the study of archives, accounting of constructions, manuscript memos, Belgian and French correspondence. Without being exhaustive, this work attempts on the one hand to inform the general public by giving it access to the latest research findings, and on the other, to enhance awareness of a heritage occasionally threatened and in any case one that is hardly known.
Namur : les Amis de la Citadelle de Namur - 2007
- , 1 vol. (112 p.) : ill. en noir et en coul., couv. ill. en coul.
Langue(s) de la ressource