Vauban et la Franche-Comté
GRESSET Maurice, AUGER Denis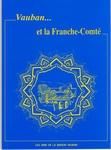 The work covers the conquest of the Franche-Comté by Vauban, the construction of the fortress of Besançon and the creation ofBelfortsquare. Also listed are the relief maps of the strongholds of Franche-Comté, preserved at the museum of relief maps.
Saint-Léger-Vauban : Association des amis de la Maison Vauban - 1996
- , 1 vol. (99 p;) : ill. en noir, couv. ill.
Notes
Bibliogr. p.93-96. Glossary. Chronol.
Langue(s) de la ressource