Vauban et le Nord : la ceinture de fer
HANSCOTTE François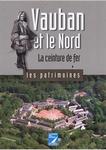 This work focuses on the fortifications of Vauban in northernFrance, the art of siege, the construction of the Pré Carré (Duelling Field) and the relief maps.
Lille : la Voix du Nord - 2006
Collection
Les patrimoines
- , 1 vol. (51 p.) : ill. en noir et en coul., cartes, plans, couv. ill. en coul.
Notes
Bibliogr. p. 49-50. Glossary. Chronol.
Langue(s) de la ressource