Vauban et Namur : le temps d'un siège
BRAGARD Philippe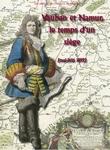 The siege of Namurby the armies of Louis XIV in 1692 generated much coverage at the time. Among the various printed stories or manuscripts, the journal written by Vauban himself has, to date, remained unpublished and unused by historians despite it being a rare first-hand source. It is one of six siege journals written by the first of the French engineers from 18th century. Relating day by day and almost hour by hour, exactly how the operations unfolded, embellished with tasty anecdotes and precise information on the combat units of the two camps, with the eyes of a technician, major specialist in the art of siege, or the art of attacking towns, of the Grand Century, this text was edited for the first time based on various preserved manuscripts, completed by explanatory notes and illustrated by engravings and drawings, certain of which rare and unknown, illuminating the work.
Namur : les Amis de la Citadelle de Namur - 2008
- , 1 vol. (208 p.) : ill. en noir et en coul., couv. ill. en coul.
Langue(s) de la ressource